TubeMagic A1 with analog audio sources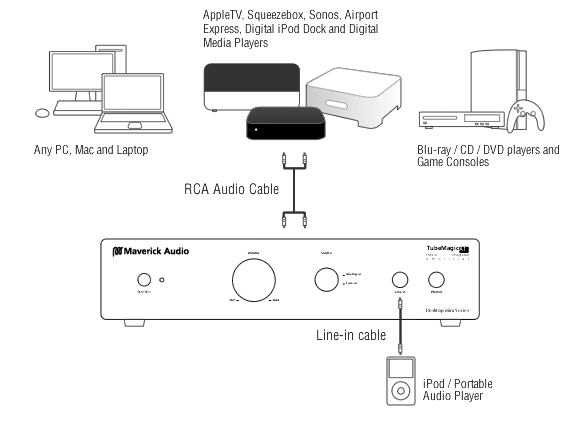 You can connect any kind analog stereo audio source to the A1.
Portable audio player such as iPod can be connected to the A1 via line-in cable.
TubeMagic A1 works best with an external digital to analog converter such as TubeMagic D1  and TubeMagic D2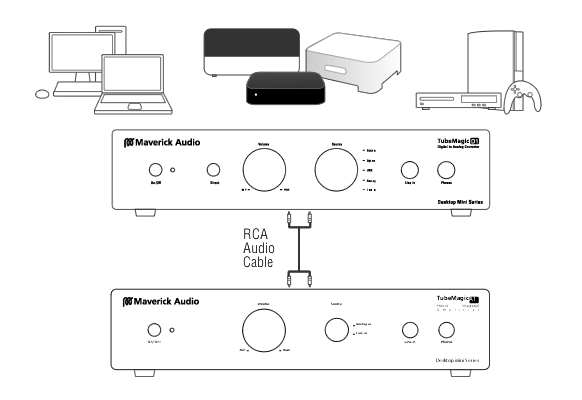 DAC will greatly enhance the sound quality by converting the digital audio  to high quality analog signal professionally.
TubeMagic A1 works perfectly with Maverick Audio TubeMagic D1 or D2 DAC. You can connect all your devices to the D1 or D2 via digital connection, then connect the A1 to the D1 or D2 via analog connection.
After all, all your listening devices ( headphones, speakers and etc) are analog devices, to have a high quality audio signal source is crucial to the overall sound quality.
Connecting your headphones, speakers and amplifiers to the TubeMagic A1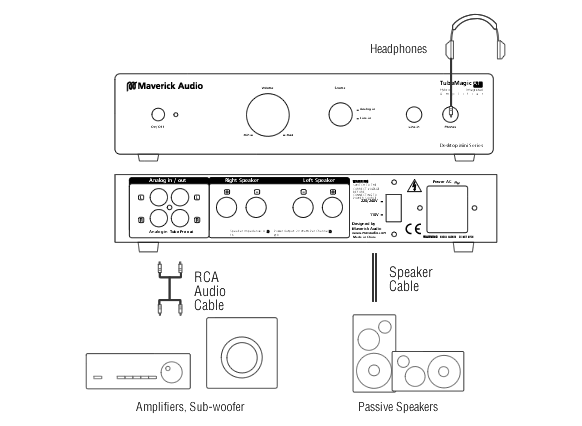 Headphones can be connected to the headphone jack on the front panel of A1.
You can connect your passive speakers to the A1. Normal speaker cable and speaker cable with banana plugs are both supported.
A1 is also a tube per-amplifier, therefore, you can connect your Amplifier or even connecting a Sub-woofer to the A1 via the tube pre-output.