Imagine if you could have a power amplifier, a tube headphone amplifier and a tube pre-amplifier all fit within the same small form factor case and built with high-quality "old school" components. Now you can have all of that. This is the Maverick Audio A1 Hybrid Amplifier, a multifunction amplifier that can go anywhere, in any setup and drive your analog listening devices (speakers, headphones) with power and quality.
When classic analog meets today's digital world
We are increasingly reliant on the digital format to store our music. However, no matter what setup, it is a pure analog signal that drives the listening devices — your speakers and headphones. Vacuum tubes, R-core transformer, metal-film resistors — A1 utilizes all "old school" analog components to add warmth and smoothness into the analog signal, to remove the dry and sterile "digital flavor" from the music.
Small size, big power.
We spent a lot of time to make the A1 having the smallest "footprint" possible on your desktop. It might be the smallest traditional Class A/B amplifier with sufficient power output you  ever can find.
Real, not peak, 20-watt output through a Class A/B amplifying circuit backed by a 80-watt linear R-core transformer. A1 is not a cheap Class-D amplifier, and it has enough power to drive small to medium size bookshelf speakers.

"Hybrid" Class A/B power amplifying
A1's power amplifying uses vacuum tubes plus a solid state circuit. The audio signal will go through a pair of vacuum tubes first and then the solid state. You will have the benefits from both worlds — vacuum tube's warmth and solid state's speed.
Pure tube driven headphone amplifier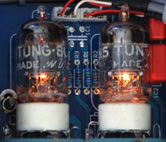 We know how much you love the sound from a pure tube headphone amplifier. A1 uses two matched NOS 6J1 tube or Raytheon 6AK5 vintage NOS 6AK5 (optional) tube to drive the headphone output. It has tons of power to drive any kind of headphones on the planet.
Tube preamp outputs stage
A1 also can be used as a standalone tube pre-amplifier to be added into your audio setup.
Perfect companion with Maverick TubeMagic D1 DAC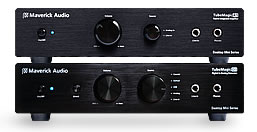 A1 has the same form factor and style as our popular D1 DAC. They have perfect synergy and when used together, they are a set of perfect matched desktop audio system to deliver an astonishing result.
Uncompromised build quality
A1 is 100% handmade with audio grade components topped off with a brushed aluminum front panel as well as solid knobs and connectors. We are serious about audio and our equipment shows that.